Pale Blue Bird is a bird which propels upward.
Appearance
Edit
Pale Blue Bird looks like a pale blue Orange Bird with magenta markings near the eyes. His corpse is similar but with a curvy beak and aqua spots.
He propels upward as said earlier.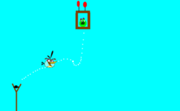 He is an energetic, young bird that has propelling powers. He is very young when he found the eggs getting caught by the pigs, so he decided to get taught by Big Brother Bird to fly. Now that he is good against everything, the Big Brother Bird decided to give him more strength than before so he is now good against rubber and ground.
undefined
Edit
undefined This part isaused for miscellaneous objects.